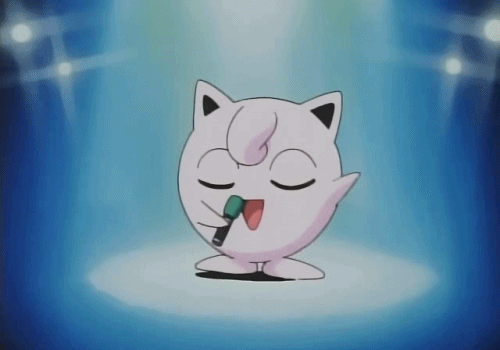 There are several ways you can enjoy group karaoke. Look at all those innovative features(tm) of Karaoke Mugen :
A customized karaoke experience
Karaoke management
Complete control over your playlists : Add, remove, copy, shuffle, see how long it is and how much it'll last, import/export, fill from another list… everything's there!

The current playlist is the one the video player uses to play media
The public list is the one your public sends its suggestions to.
Combine both lists to get an autonomous karaoke where all songs added are played on screen!

Reorganise automatically your playlists. You can drag and drop songs in the list, but also smart-shuffle it so it doesn't put all songs from the same guest at once, or doesn't put long songs together.
Manage your users' quota : How many songs can they add? How long can they sing? Their quota is reset as soon as a song is played or if they're freed manually by the karaoke operator, by likes from other users, or automatically after a set amount of time.
Make the public vote! Let them choose which song will go next via a poll. It's a great way to let your karaoke fill itself with the most liked songs from your users. You can thus join them and sing along!
Forbid people from adding songs already present, may it be the exact same song or a song from the same series or singer.
You can hide some songs in the playlist to make your karaoke more mysterious ! Mystery songs appear to users as entries with a ??? label in the playlist or can be made completely hidden to add even more surprise!
Create automixes : Playlists made from your users' favorite songs!
Sessions are karaoke moments which you can name and organise (conventions, weddings, parties, etc.) to gather stats about which songs were played or requested during said events.
Some jingles can appear inbetween songs. We offer a lot of jingles already.
Various intros can be displayed before every beginning of a playlist. See them here.
An advanced blacklist system, complete with automatic criterias and a whitelist allows you to hide particular songs, like ones for adults, italian songs or those sung by Nana Mizuki !
Your karaoke ended but your guests still want some? You can leave Karaoke Mugen to play random songs from your library until someone adds a song to the list!
Show off what you're thinking on your Discord profile so people can know which song you're destroying.
User management
Complete user profiles with nickname, avatar, etc.
Users can have an online account to save their profile or favorites and find them again when they go to another Karaoke Mugen-powered event!
Users and operators can choose how to display series names. Attack on Titans or Shingeki no Kyojin? Fullmetal Alchemist or Hagane no Renkinjutsushi?
Online features
Karaoke Mugen can be used without any internet connection. However, with this feature your users would need to be on the same Wi-Fi network to use Karaoke Mugen.
Some optional features will need you to be connected to the internet though.
Check for updates.
Download the songs you want from various karaoke repositories. The kara.moe repository is added by default.
Online accounts for your users :

A unique user profile so your users can log in from another Karaoke Mugen session.
Favorites can be stored online.

A shortened URL, xxxx.kara.moe can be used to connect to your Karaoke Mugen session by your friends and guests. They can see the current playlist and suggest songs.
Opt-in stats on your Karaoke Mugen usage can be sent to Karaoke Mugen Server, if you give your consent.
Media player
The karaoke media can be controlled with ease: Play, pause, skip, previous, immediately stop, or delay stop after the current song ends, change volume… You can also temporarily hide lyrics to let your public sing by heart!
The player's volume is adjusted automatically thanks to pre-computed audio gain data. Every song has a different volume, so this auto-adjust system won't scare you off when a loud song starts to play right after a quiet one.
You can choose which screen to use but also have a second video player synced to the first one (also called monitor) to keep an eye of what's displayed on the main screen if you can't see it from where you are.
Display public announcement messages on people's devices or on the big screen during a song. Messages such as Happy Birthday! or Karaoke ends in one hour!
Background wallpapers can be completely modified if you'd like. You can even let Karaoke Mugen choose one at random among a list of files.
Permissions
The public's interface can be opened (by default), limited or closed. In limited mode, it only displays the current song and playlist, but doesn't let your guests add songs. This is useful when nearing the end of a karaoke session.
You can forbid people from changing nicknames.
You can even have several blacklists depending on when or where you are (weddings, anime conventions, birthdays, etc.)
Karaoke Mugen in action
Public interface overview :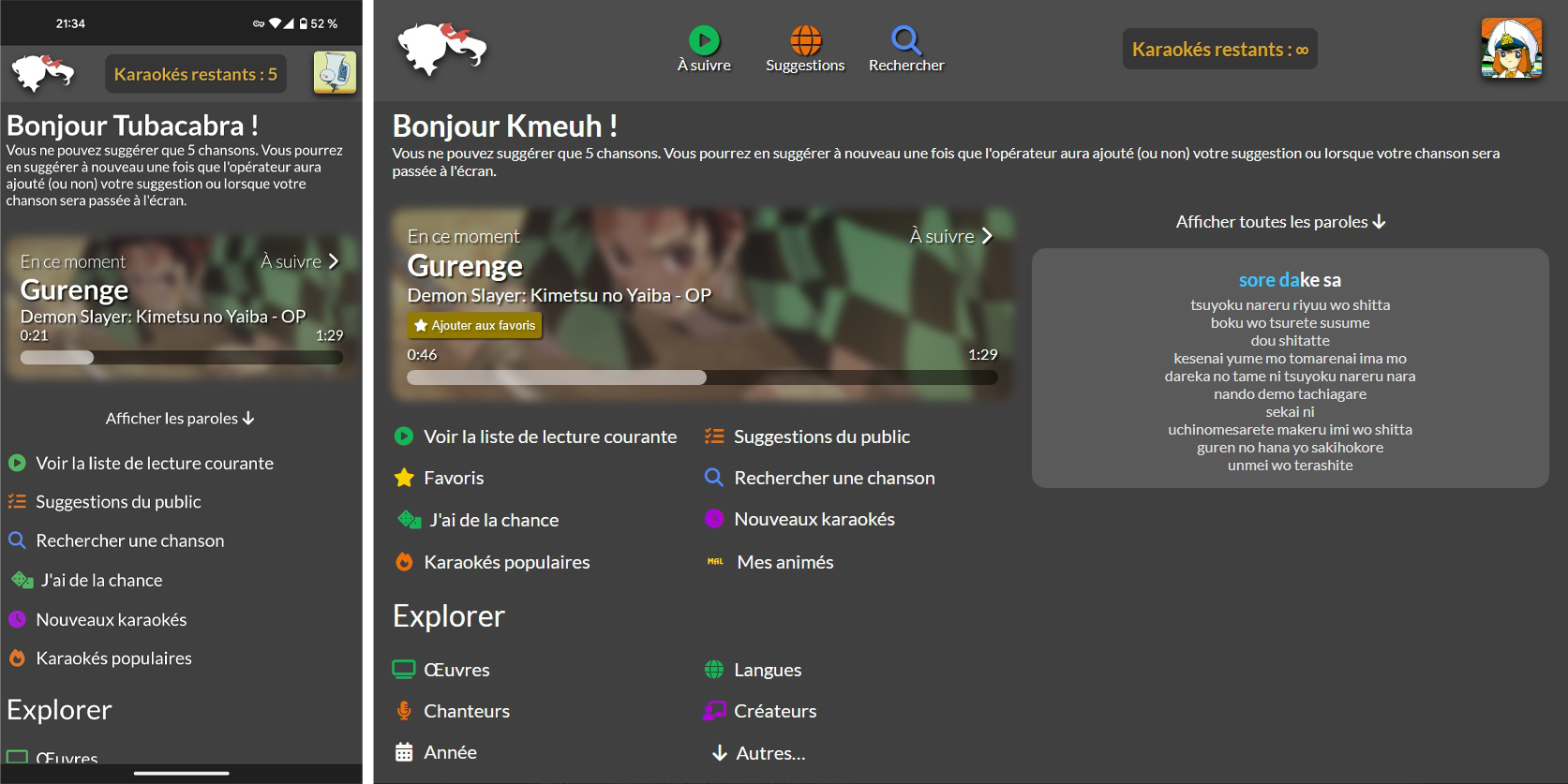 Operator interface overview :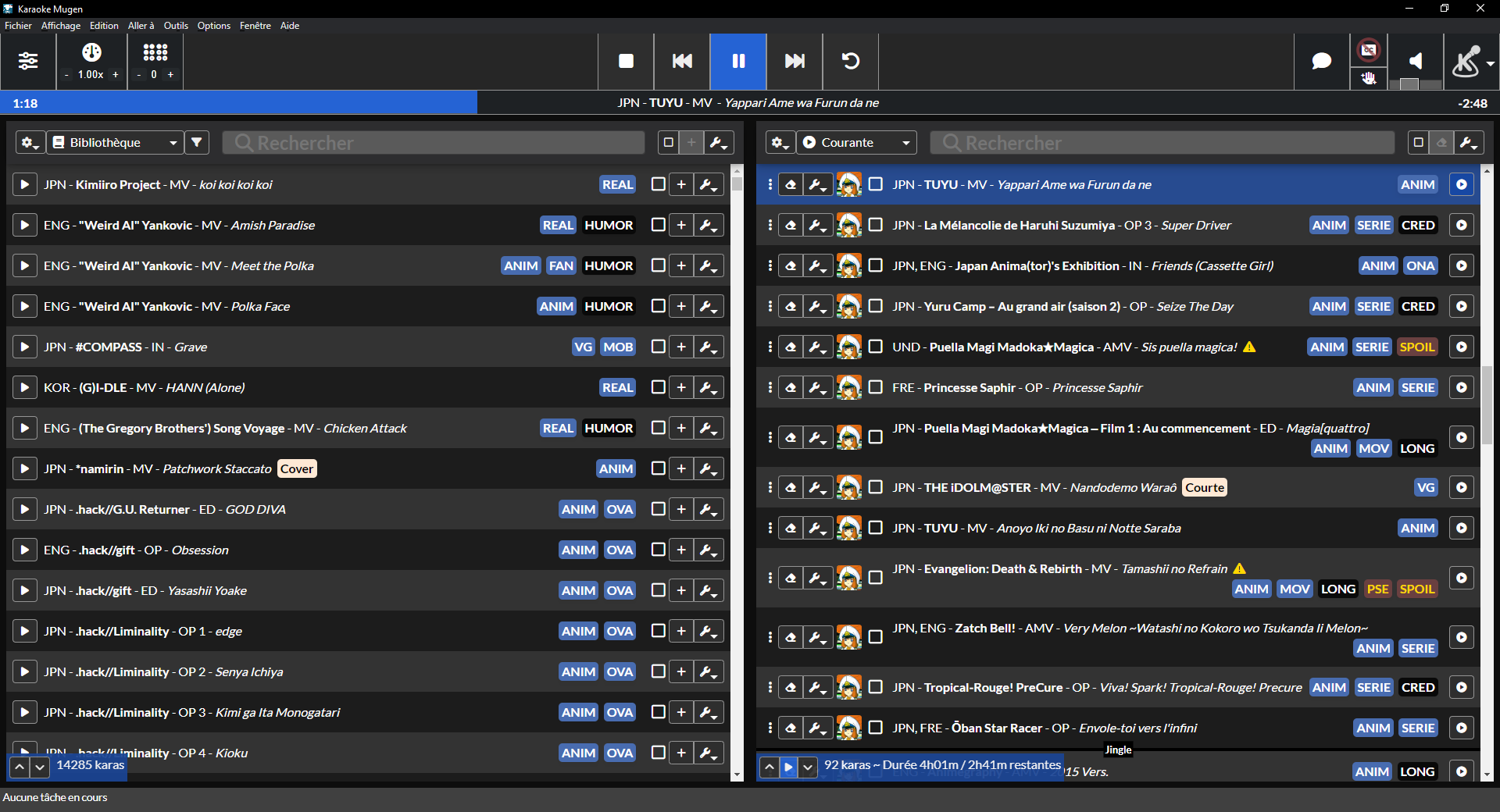 Options overview :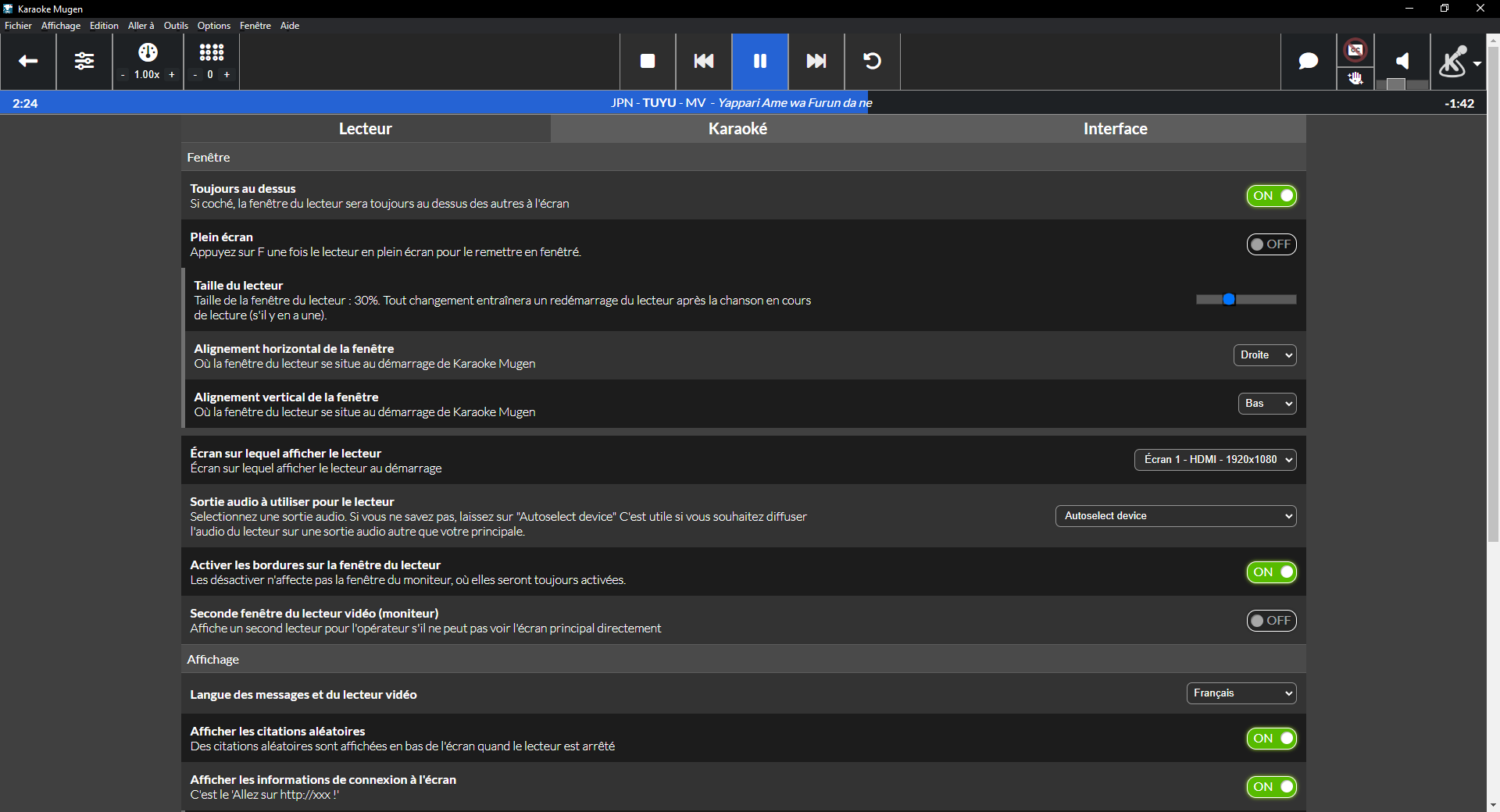 How the karaoke looks like on the player's windows :
Technical stuff
Karaoke Mugen is software licensed under the MIT license, a free software licence which allows to use the software as you see fit.
Works on Windows, Linux and macOS.
You can have several folders for your data. A folder for personal songs and one for the Karaoke Mugen main repository, etc. These folders can even be on different filesystems or drives.
All video formats supported by mpv are accepted.
Subtitles are using the ASS format, convenient for karaokes.
The main interface also works on smartphones and tablets.
A Websockets API so others can download new interfaces or clients.
Roadmap
Check out the roadmap to know which features are planned next!